Dalia and Arūnas Drobniai homestead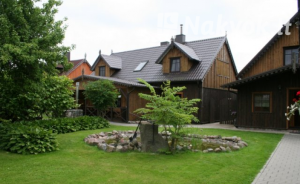 Address: Lakštingalų street 2, Rusnė, LT-99343 Šilutė district
Contacts: phone number: +370 441 58189, +370 687 74687 (Dalia), +370 611 29594 (Arūnas)
Email: rusnedalia@zebra.lt
Website: www.poilsisrusneje.lt
Number of rooms: 6
Number of beds: 14
Price: 15 € per person
Other services: tour across the island for 1 hour. – 12 €, bicycle rent for one day – 15 €.
When booking the entire homestead – free sauna, guests are treated with fish soup.
The homestead is found on the bank of the River Pakalnė in Rusnė. We are waiting for everyone who wants to get acquainted with the island of Rusnė and to go fishing and swimming in a boat or canoe.
We organize excursions by boat and raft. Also, in our homestead you will find 30 seats banquet hall (with dishes, coffee, tea and sugar), a fireplace and sauna (cold water tub, brooms and towels), a summerhouse for 20 people with a fireplace and a place to build a tent. Boat trips are organized to Nida and around the island of Rusnė. Provision of transport services is provided.